Coming Soon…
Monday, June 7th
Third Grade visit to Pretty Family Park
Special Class: Music with Mr. Skebo
Tuesday, June 8th, 2021
Third Grade visit to Boccabella Park
Special Class: Music with Mr. Skebo
Wednesday, June 9th, 2021
Thursday, June 10th, 2021
NO BACKPACKS
Third Grade visit to The Barney Park
Have your child bring his/her chromebook and charger to school today.
NO Special Class today
Half Day-Dismissal @ 11:30am
Friday, June 11th, 2021
LAST DAY OF SCHOOL!
NO BACKPACKS
If you forgot yesterday, please have your child bring his/her chromebook and charger to school today.
Special Class: Music with Mr. Skebo
Half Day-Dismissal @ 11:30am
---
Remote Learners
Monday
9:00am   The Secret World of Robots Zoom Assembly (Different Zoom Link)
10:35am   Watch Charlotte's Web Movie
11:00am   Music with Mr. Skebo (look in the Specials Google Classroom)
11:40am   Watch Charlotte's Web Movie
Tuesday
NO Live Classroom Times Today.
11:00am   Music with Mr. Skebo (look in the Specials Google Classroom)
Wednesday Times
See above since everyone is Remote on Wednesday.
Thursday Times
10:50am   American Red Cross Zoom Assembly (Different Zoom Link)
NO Music Zoom Today
Friday Times
TO BE DETERMINED
10:40-11:20am   Music with Mr. Skebo (look in the Specials Google Classroom)
---
Park Week!
Hopefully the rain holds off and we can visit 3 different parks this week! Please make sure you child brings a water bottle to school so he/she can stay hydrated while we walk to/from and play at the park.
Monday: Pretty Family Park
Tuesday: Boccabella Park
Thursday: The Barney Park
---
May Super Cougar
Congratulations to Landen for being our May Super Cougar! Landen is responsible, respectful, safe, and kind. He participated in a pizza lunch with Mr. Zielinski and other classroom Super Cougars on Thursday, June 4th.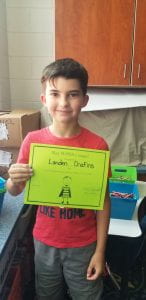 ---
MetroParks Visit
On Tuesday, June 1st, Mr. Justin visited the third grade classes and taught us about Michigan Mammals.
---
Jump with Jill Virtual Assembly
On Thursday, June 3rd, we particpated in on virtual assembly called "Jump with Jill". Jump with Jill is the world's only rock and roll nutrition show/presentation. This virtual assembly had us on our feet while learning ways to keep our body healthy and strong!
---
Reading Dogs
On Friday, June 4th, Ms. Cathy and Honey visited our class in the courtyard during Read to Self.